P3 … Pulsed… Peak… Performance
The P3 is a pulsed electromagnetic device (PEMF) that is effective in the treatment of the equine athlete.
The increasing competitive nature of the events, the intensity of training and the severity of the workload have created an entirely new set of athletic problems that are seen in the performance horse. Many of these injuries are fatigue related and there is a consistent re-occurrence of these injuries.
P3 is proving to be very beneficial in alleviating pain, increasing range of motion and can speed the healing of many types of injuries. Veterinarians are finding the P3 to be a very effective non invasive therapy and that the deep stimulation opens the lymphatic system and allows the body to transport waste products out of the tissues thus relieving soreness.

The P3 Machine can:
Increase blood circulation
Help to prevent injuries
Speed repair of tendons and ligaments
Alleviate joint stiffness
Stimulate hoof growth
Heal wounds
Reduce scaring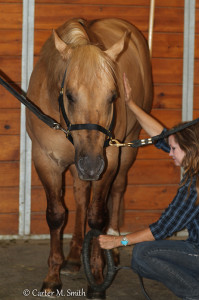 Numerous veterinarians have said that the P3 is revolutionizing the way that we look at and treat backs. When added to a training program the highly regarde veterinarians and trainers have seen that the P3 can give the equine athlete a competitive edge.
Highly regarded veterinarians and horse trainers/owners have been using the P3 for an excess of seven years and have been very pleased with the results. They feel that this type of "in the field" research proves the safety and efficacy of the P3 to a much greater degree than does a limited time research project at a university, in a lab or  any other artificial setting. In each case the veterinarian or trainer has purchased the P3 at full price.
Another benefit of the P3 is that the veterinarians and trainers can actually see the P3 doing its work; they are able to watch the response of the patient as the muscles contract and relax during P3 treatment.
The P3 is used by highly regarded veterinarians and trainers including but not limited to the following:
Veterinarians
David Frisbee
Stuart Shoemaker
Alan Donnell
Keith Merritt
John McCarroll
Trainers
Michael Matz
Todd Bergen
Trent Pedersen
Tim McQuay
Duane Latimer
Matt Gaines