By Heather Smith Thomas – Equine Chronicle • March/April, 2008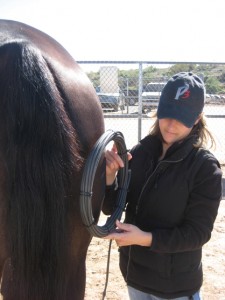 A growing number of veterinarians and trainers are finding many important uses for the "P3" Machine, a pulsed electromagnetic "complementary" therapy device that is used to treat equine athletes. P3 stands for Pulsed Peak Performance, and this therapy is proving very beneficial in alleviating pain, increasing range of motion, and is speeding the healing of many types of injuries.
S.B. Enterprises, LLC of Eagle Point, Oregon is the company behind the P3 and is owned by Stephanie Blair. Stephanie showed horses while growing up and has used many "complementary" therapies on her horses to varying degrees of success. "I showed reiners, cutters, cow horses, and in many AQHA all around competitions; went off to college, then married a gentleman (Trent Pedersen) who trains reiners and cow horses. Finding a device like the P3 to hopefully take complimentary healing to a new level was a natural progression of my equine career," says Stephanie.
The P3 is sold only for veterinary use, sold to or through veterinarians. S.B. Enterprises does not make any claims as to benefits to be derived from use of the P3. "Our approach to developing our business is to get the P3 into the hands of a number of highly successful and respected veterinarians and trainers (through their veterinarians), and let them determine for themselves any benefits to be derived from its use," says Stephanie. Each of the following individuals interviewed has used the P3 for the past one to three years each and they all agree that it is safe, easy to use, and contributes to successes within their practices or businesses. No medical claims are made or implied by the company; they prefer to refer interested parties to people who are using this machine. Following are a sampling of comments from a number of veterinarians and trainers who are currently using the P3.